6500+ Compliance Professionals Pan India take advantage of our 650+ free legal updates from our Muds Knowledge Centre
Successful execution of compliances 2,37,960
Penalties Forestalled 675 m
Evidences Documented 65,000
Man hours conserved 16000
The Below Pie chart depicts the effect of Compliances on the risk quotient of the organization.
Before Compliance Pie Chart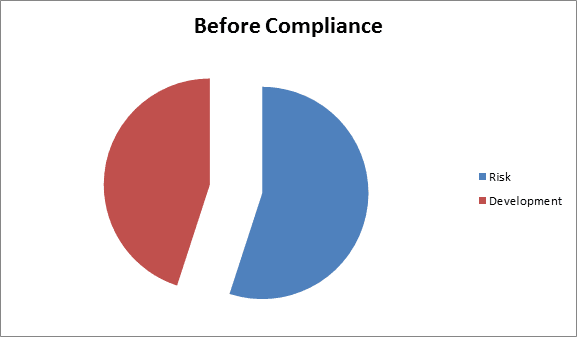 After Compliance Pie Chart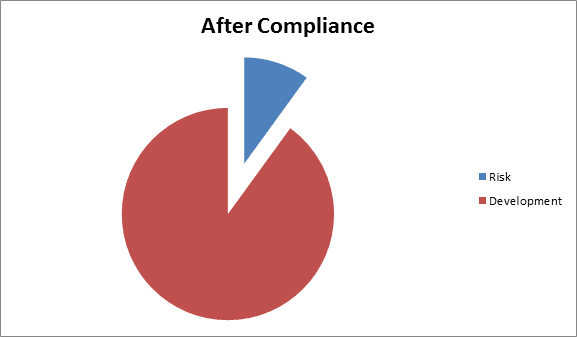 " The cost of compliance is always lesser than the risks of non compliances ."
Major Industries covered by Muds Compliance Insurance
Why do you need Compliance Insurance?
Safeguarding your interest via paying premium to Muds.
Stay updated & compliant with new laws, rules & amendments.
Saving ourselves from hefty fines & Imprisonment for non-compliances
Hassle free compliance outsourcing
Well planned & Execution of all legal Compliances
Elimination of Loopholes in the Legal Compliance Management
Compliant company will attract clients and investors.
Get away with your Enterprise risks.
Helps Avoid litigation risks and Consumer complaints.
Why do you need Compliance Insurance?
Define:
You can use the step-by-step wizard to quickly define compliance requirements for multiple companies/locations. You can manually configure the master data or upload the bulk data using a spreadsheet (MS Excel, CSV).
Schedule:
Compliance requirements can be scheduled for multiple fiscal years, as well as vacation and weekly vacations. It can also be easily rearranged/ modified. Use spreadsheet data – MS Excel, CSV.
Allocate:
Each compliance task can be assigned to its own department and user, so responsibility is not blurred.
Organize:
Compliance helps, organizations to complete the task for your Company and to-do items as well as data related to tasks in different file formats, such as MS Word, MS Excel, PDF, challan copies, documents, spreadsheets, scanned documents and any other electronic file formats.
Track:
Tracking of compliance requirements is its one of the biggest USPs. Our organization keeps a regular check with the update requirement of the different prevailing state and central laws.
Internal challenges faced in Compliances
Process & process owner changes
Multiple dealers & Contract
Need For Comprehensive Compliance Solution..!!
Business Complexities, legislative changes, dependencies on external vendors have increased need for a robust system.
Different no. of legislations
Multiple Organisation locations
Industry Specific Guidelines & Policies
Periodical reports to Management
3,500+ compliances from 99+ Acts to be reported every year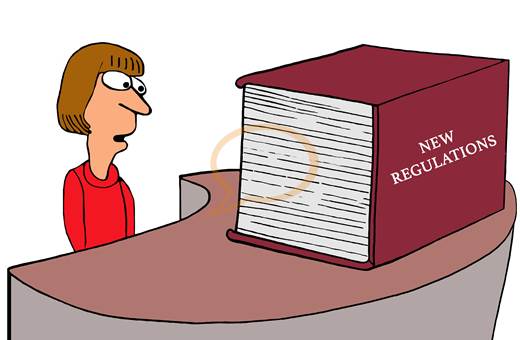 SEBI Regulations – SEBI (Listing Obligations and Disclosure Requirements) Regulations, 2015, UPSI
Employment and Labour Law 2019
Anti-Harassment and Abuse
Anti-Discrimination; Legal Right to Work
Compliance Service Management
We ensure
We advise
We resolve

Audits & due diligences
Ensuring that the markets are fair, efficient and transparent
Provide legal updates
Construe responsibility matrix

The business on rules and regulation
Control and supervise the implementation
Chronicle compliance with evidencey

We resolve the knowledge barrier
Monitor and report on the effectiveness of these rules and regulation
Compliance Service Management
We manage
We Identify
We reduce risk

Audits related to compliances
Due diligences
Enhancement of team productiveness
Felicitation of legal advisory

Managing teams during design and construction of application development
Monitoring strategic relationships
Identify applicable compliance

Build consensus between teams
Reduction of systemic risk
Reduction of financial crime
Total complianceAdvisory
Consists 685+ Corporate Actions
Deals with effect of 325+ Acts
Throws light on 13,800+ compliances
Evaluates regulatory risks associated with decisions
Detailed description of risks, exceptions and penalties

An outstanding portal that discloses all your registration needs
480+Registrations, Approvals & Licenses
350+ Central & State Acts covered
Discusses all regulatory requirements under an Act
Applicability & Exceptions enumerated
Alternately Call our Legal Expert Now For Free Consultation at 09599653306
Frequently Asked Questions on Compliance Insurance
How Does The Compliance Process Work?
Compliance means managing the working of an organization within the legal framework as provided by various existing laws, also it includes giving importance and detailing every minute aspect in an Organisation. Further, the process includes segregating the Organisation  into various departments and then studying each department whether it's up to date with the recent government policies or not, if not filling the gaps and deficits.
What Is The Need Of A Compliance Program In An Organisation?
Compliance is a vital element for legal completeness, legal consistency and working of any business in order to avoid unnecessary fine and other punishments as mentioned in different Acts applicable to a particular business line.
What Are The Applicable Laws?
It majorly depend upon  the type of industry, but few common laws that are similar in all the industries are Labour laws, Prevention of Sexual harassment at workplace Act, Maternity Benefits Act etc.
How Much Time Will It Take To Do The Full Compliance Of The Company?
It totally depends upon the size of the industry, tentatively it takes somewhere around 30-45 days to make a detailed checklist and a business fully complaint.
Thanks Muds Team for their all round support in successful delivery of services. Their approach is Client Centric and they possess the deep understanding of the Subject

Their Professional Approach blended with personal touch eases out all hassals in the Transaction.

We have been working with Muds since 4 years and their service is dependable. I highly recommend Muds in every facets of Business for the hassal free sleep.