Mergers & Amalgamations

Acquisitions & Takeovers

Deal Negotiation & Structuring

Cross-Border Transactions

Demergers

Technical Collaboration

Joint Ventures

Winding Up

Group Re-organisation

Specific advisory for acquisition of NBFCs and Listed Companies

Insolvency & Bankruptcy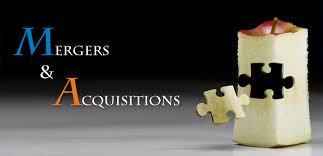 Whenever we talk about Mergers and Acquisitions, there are many questions that one may ask some of them being – What is meant by Mergers and acquisition? How is it done?
Let's try answering some of these questions:
Mergers and Acquisitions
Merger and Acquisition are corporate strategies of buying, selling and combining of different companies. They help the entities involved to grow rapidly in their sectors or to flourish in a new field.
In Merger of a company, two or more companies combine to work as a single company with mutual agreement while in acquisitions, one company buys majority shares of another company to gain ownership and control over it. Acquisition can either be friendly or can be hostile.
Types of Mergers
Various types of business mergers seen in the market are:
Horizontal Merger:  It involves corporate mergers of two companies that are in direct competition with each other. Such corporates tend share the same product lines as well as markets.
Vertical Merger:  Merger of two companies operating at different levels of the same supply chain like a company and its suppliers.
Market extension merger:  Business mergers of two companies that sell the same products in different markets.
Product extension merger:  Corporate mergers of two companies selling different but interrelated products in the same market.
Conglomeration:  Company merger of two entirely different businesses.
Steps in Mergers and Acquisitions
Mergers and Acquisition are done by the following procedure:
Company and buyer analysis: Merging companies evaluate themselves and each other to evaluate the potentials of the merger. Factors like potential synergy risks involved, capital structure and restructuring needs are thought upon.
Analysis of pricing mechanism: The net worth of the merging companies, price of the merger, financing of the merger, terms and conditions of the corporate mergers are evaluated.
Share data Analysis:Company mergers and acquisition depend on the shareholding of the companies. At this stage, it is determined that who are minority shareholders and who will have a more controlling power.
Management presentation and meeting:Management of all the companies involved meet and discuss all the related factors.
Letter of intent:Letter of intent and confidentiality agreement are made.
A process of due diligence: The annual reports and financial statements of the companies are reviewed.
Approval: The merger/acquisition is approved and all the necessary documents are signed.
Signing:The contract of company mergers or company acquisition is signed and share transfer certificates are generated.
Approval and closing: Approvals from the government authorities is taken and final payments are made.
Benefits of Mergers and Acquisition
Company Mergers and acquisitions are based on the fact that the value of the two companies working together is more than that of the companies individually. Thus, it leads to many benefits like:
Staff Reduction:  Company mergers and acquisitions can lead to staff reduction. Thus, money is saved due to less number of employees in various departments.
Economies of scale:  Company mergers lead to an improved purchasing power of the companies to buy different types of equipments and other supplies.
New Technology:  Technological development is very important today to stay in the competition. Mergers and acquisition can give a competitive edge by unique technologies that they will share.
Improved Market reach and industry accessibility:  Companies can grow revenues and earnings by reaching new markets. It expands marketing and distribution increasing the sales opportunities for the merged company.
Diversification:  The mergers and acquisition generate many opportunities in market and products that were not a part of the company before being merged.
Transfer of resources:  The merged company gets benefits from two pools of resources.
'Mergers and acquisition is thus a very important corporate strategy to expand the boundaries of your company and benefit both- the acquiring company and the acquired company. It not only increases the worth and reaches of the market but also helps in diversification, an increase of resources and generate a new
economy of scope and scale.'