What Are Different Types of NGOs in India
Non-governmental organizations or NGOs is a term referred to those institutions that are non-governmental entities, who took a stance to brought a change in society by the welfare of underprivileged and deprived sections of society. NGOs are run by a group of people who are indulging in social activism and providing selfless services for human welfare mainly. The non-governmental organization (NGOs) are independent organizations and they are not part of any government bodies or they are not established by states.
What are the roles of NGOs in our society?
In a nutshell, they show commitment concerning the progress of society in different sectors. They carried out activities that are strictly not for profit and entirely dedicated towards the social cause. The activities executed by these organizations are mostly related to these sectors Advocacy, Environmental, Social, & human rights work but not limited to these sectors, they indulge in a wide spectrum of noble services.
The aim of NGOs is to advocate political or social change on a large scale and they have occupied an essential position in our country. They tremendously contribute to the development of society, encouraging citizen participation, and enlightenment of communities.
Non-governmental organizations depend upon private sources for their portion of the funding. Currently, this term is linked with the United Nations and reliable NGOs are those organizations that are approved or labelled by the United Nations. Some Non-governmental organizations prefer to call them out as voluntary organizations to specify in their jobs.
What are the Resident Welfare Association or RWA?
A complete full form of RWA is Resident Welfare Association, they are specifically authorized under the Societies Registration Act,1860. They function as per the constitutional documents such as a Memorandum of Association which specifies their roles and objectives. They are formed by citizens and they do not possess any statutory authority. As societies, Resident Welfare Associations (RWA's) also make their separate laws and regulations to execute their powers, roles, governance structure. As RWA is a legal body it has the power to sue and be sued as well. They govern the society's bylaws, power to settle disputes, and maintaining decorum in the assigned area.
What are the different categories of NGOs in India?
In India, the nature of NGO Registration could be defined by their orientation, level of operation, Cooperation levels, structural types, etc. So let us explore the types of NGOs in India categorically:
Categorization of NGOs based upon Registration / Incorporation
It is based upon registering a non-governmental organization as a Trust, Society, or Section 25 company in India.
Registration is done under distinct acts which means that different provisions and benefits will apply to the various organizations.
NGOs categorized based on their orientation: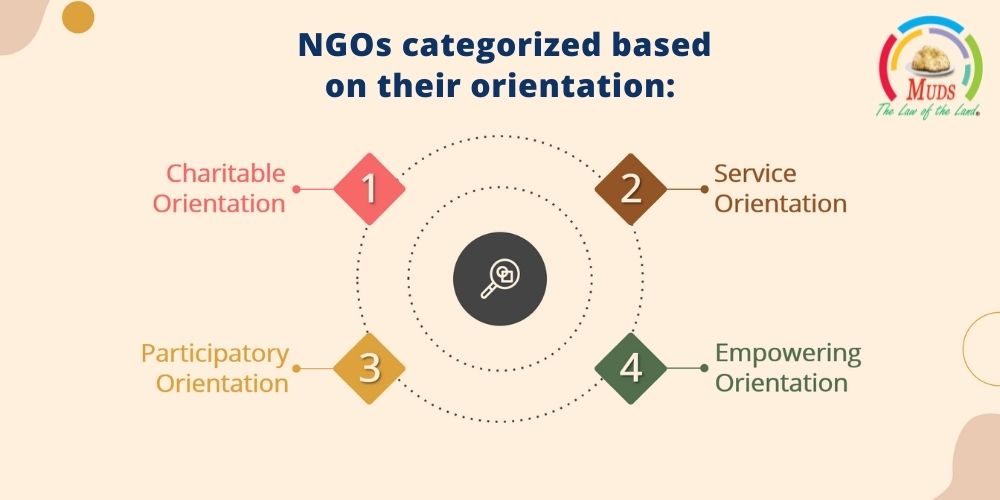 1. Charitable Orientation
The NGOs fall under this category, in which they play as an authoritarian and has all the powers on the other hand beneficiary party has least or no involvement in their activities.
NGOs who were primarily involved in campaigns focused on fulfilling the necessities of the lower income group communities with the aid of clothing, medicine, food distribution drives, housing facility, school, transport, etc.
These NGOs work actively during natural calamities and emergency situations. They play an important role by providing necessities to affected families.
2. Service Orientation
The NGOs provide services in collaboration with other parties as well.
Service Orientation Non-governmental organizations include those NGOs which campaign dedicatedly towards the promotion and awareness of education, health, family planning for the underprivileged section of the society.
They actively work towards the goal and target the specific services and goals in their mission.
3. Participatory Orientation
In these types of NGOs Participatory approach is employed and is signified by self-help missions and plans in which localities play a primary role by engagement with the organization of a project.
They organize, manage in every possible way by themselves, they collect donations in terms of money, land, tools, labour, material, etc.
In the traditional public development project, participation instigates with the fulfilment of requirements followed by the planning & deployment phase. Co-ops habitually adhere to participatory coordination.
4. Empowering Orientation
The NGOs fall under this category, with emphasis upon Empowering Orientation.
 Their aim is to provide aids to the deprived section and nurture the understanding of the social, political & economic aspects affecting their lives,
They have a mission to harden their consciousness to enhance their ability to get equal rights.
Types of NGOs categorized on the basis of the level of operation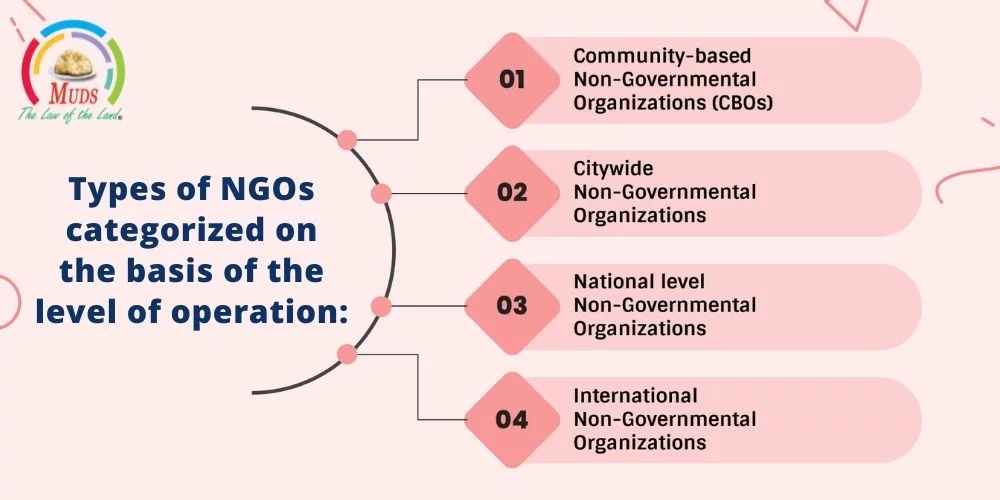 1. Community-based Non- Governmental Organizations (CBOs)
Community-based Organizations are those NGOs that target specific communities.
They work for small range and small groups to elevate their standards in society.
They emanate the effort of people's own initiatives.
They usually involve in women's organizations, sports clubs, educational organizations, and neighbourhood organizations, small regional communities, and many more.
They committed to cultivating cognizance amongst the deprived ones to boost their understanding of fundamental rights to access basic services and positions in society.
2. Citywide Non-Governmental Organizations
These Non-governmental organizations actively work at a city level.
 It includes bodies such as the Rotary or lion's Club, coalitions of business, associations of communal organizations, and cultural or educational groups.
In this category of NGOs, they generally have a different set of purposes and some might be involved in supporting deprived ones while others are here to serve for the specific cause of supporting the underprivileged.
3. National level Non-Governmental Organizations
These types of organizations are involved at the national level.
They have a huge team of volunteers and have an agenda of National interest.
NGOs that fall under this category are Red Cross, professional organizations, YMCAs/YWCAs, etc.
They also possess state & duty branches & deliver services to the local level NGOs as well.
4. International NGOs
The non-governmental organizations which organize their activities at the International level fall under this category.
NGOs embrace secular foundations such as Redda B Arana, Save the Children agencies, Care, Oxfam, Ford & Rockefeller Foundations to generate cognizance among the masses conscientiously.
Their endeavours are diverse from funding local NGOs, projects & agencies for organizing the project.
Categorization of NGO'S Based Upon Sectors
Age care (old age groups)
Agriculture
Animal Welfare and Rights
Art & Craft
Child Education
Cities/Urban Development
Community Development
Culture & Heritage
Disability
Disaster Management
Education
Environmental issues
Health & Hygiene
HIV/AIDS
Housing & Slums
Population
Poverty Removal
Rural Development
Science & Technology Development
Tribal people
Waste Management
Drinking-Water
Women
We have mentioned all the categories of NGOs based upon their registration orientation, size, level, etc. There are all types of NGOs that exist in India and providing commendable services to attain peace and harmony in our society.
Now, we will explore the legality associated with NGO registration. Here is briefly explained key points regarding the same.
Laws and Regulations allied with NGOs registration in India
An NGO is a legally authorized organization established by regular or legal personnel that function autonomously without any involvement of government or its allied agencies & this term is typically used by governments to denote bodies who have no government status. 
It works distinctly with no intervention of governmental authorities. In our country, NGOs can be either listed as Trust, Society & Section 8 companies established on the undertaking a founder aspires to execute and achieve through this non-governmental organization. 
An NGO is an institution that adheres to function strictly for a social cause and a have a certain pre-determined mission and objective for the betterment of societal development.
The norms for the registration of NGOs under the aforementioned heads is also diverse. If an applicant wishes to register their NGO under the section 8 company, then they have to submit an online application, viz SPICe+, on the official website of the Ministry of Corporate Affair or MCA.
As per above-mentioned condition, Interested applicants who want to register an NGO under the trust are required to follow a completely different procedure altogether. The process below mentioned will provide a complete understanding of how one should apply to register an NGO as a trust.
Choose an appropriate name as per the Emblems and Names Act, 1950.
Required to draft the trust deed.
Select wisely Settlers & Trustees of The Trust
Prepare an MOA
Pay trust registration fees.
Prepare and Collect Trust deed copy from the Registrar's office.
Trust deed must be submitted to the local Registrar's office.
Collect the registration certificate in 7 days from the submission.
Points to Remember:
NGOs are non-governmental entities, they are involved with global development, aid, & philanthropy.
They have a definite mission and goal for the development of society.
Though these bodies, they promote social welfare, NGO's must run financial plan of millions each year.
They require aids and funding from various cradles, they are dependent upon private donation sources & membership dues to government offerings.
Regardless of being an independent body, many of them are dependent on governmental funding and aid to function effortlessly.
As non-profits, NGOs hunt for several funding sources, including:
membership dues
private aids
sale of goods and amenities
the grants from other non-profits
the government funding for NGOs
This is a brief outlook for different types of NGOs that exists in India. According to the government of India report, India has more than 49,859 registered NGOs with the FCRA. They are playing a crucial role and their involvement has resulted in a fruitful outcome in many cases. They enable citizens to work composedly and voluntarily to endorse social principles and civic goals, which are important to a civic society. They support community and local initiatives.  NGOs imitate the diversity of society and embrace it in different ways. Their work reflects at grassroots levels and they help governments in achieving various goals. Despite, being an independent entity their registrations, regulations, and financial activities are well regulated and monitored by governmental norms. The norms vary and are depending upon the type of NGO as described above.