Are You Desperate To Regain Your Unclaimed Investments?
There are many of us who are in dire need of help in reclaiming those shares, debentures, dividends, mutual funds, deposits, etc. that never reached us. As we have either lost, misplaced, or forgotten about their certificates & details, many of us often find ourselves questioning how do I find unclaimed dividend? Earlier, all shares and certificates were issued in physical form, and often, they were lost or torn or simply the owner passed away without handing over the same to his heir(s).
Regaining such benefits is an arduous task, as we lack the knowledge of the complete process that needs to be performed for successful recovery of them.
What Is IEPF?
Have you heard about IEPF? Are you aware of what it does & how? Do you know how it helps in unclaimed funds recovery?
Well, for beginners, it is the abbreviation of Investor Education and Protection Fund. It is a fund that has been set up by the Ministry of Corporate Affairs (MCA) and is funded by unclaimed shares, dividends, deposits, debentures, et all.
A trust monitors the IEPF and utilizes money that remains unclaimed for more than 7 years. After 7 years unclaimed dividend transfer to IEPF is done by nodal or transfer officer of the company.
Type of Funds That Are Moved To IEPF: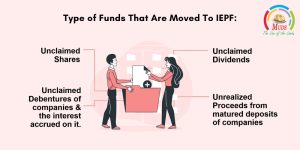 Stay informed that under mentioned funds are transferred to IEPF:
Unclaimed Shares
Unclaimed Dividends
Unclaimed Debentures of companies & the interest accrued on it.
Unrealized Proceeds from matured deposits of companies
Can A Shareholder Reclaim Such Unclaimed Shares?
Yes, a shareholder can reclaim any such investment from IEPF as the IEPF authority maintains the details of all the accounts. The aforesaid can be done by following the prescribed procedure and on submission of duly filled form and required documents.
Process To Secure Refund Shares From IEPF or IEPF Unclaimed Dividend:
Any person, whose unclaimed shares, unclaimed dividend, matured deposits, matured debentures, application money due for refund, or interest thereon, sale proceeds of fractional shares, redemption proceeds of preference shares, etc. has been transferred to the Fund, may claim the shares under the provision to sub-section (6) of section 124 or apply for a refund under clause (a) of sub-section (3) of section 125 or under proviso to sub-section (3) of section 125, as the case may be, from the Authority. The transfer of company shares or claiming the shares from IEPF can be done with the help of a legal consultancy.
In the of a company, the claimant is entitled to only one consolidated claim in a financial year.
On the other hand, if the claimant is an administrator nominee or a legal heir or a successor then, before filing any claim with Shares from IEPF authority, he needs to ensure that the transmission process has been completed by the concerned company.
Step 1. Completion of Transmission process from Company- Prior to claiming shares it is important to complete the transmission process with the company considered after which the application may be made for claiming such shares
Step 2. Claimant to Authority- E-Form IEPF-5 needs to be downloaded from the site, duly fill in and then upload.
This form requires all details of the unclaimed investment to be filled. In addition, it also seeks the details of the claimant.
Step 3. Claimant to Company- After filing the e-form, the claimant is required to send copies of required documents by post to the Nodal Officer of the concerned company.
Step 4. Company to Authority- The company shall send a verification report to the Authority, within 15 days of receipt of the claim form.
Step 5. Authority to Claimant- After the receipt of all relevant documents, verification of the entitlement by the claimant is done. Thereafter, a refund sanction order and finally, the transfer materializes in the Demat account of the claimant.
How to Successfully Reclaim Your Unclaimed Shares?
After reading the above procedure to claim shares transferred to IEPF, it has been clear that it is a complex process. Since the shares are really old, the fund manager of the IEPF conducts a thorough scrutinization of the claim application with documents. Thus, the chances of rejection of an application due to any small error or missing document are higher. This is where assistance from a reputed financial and legal consultancy firm could play a major role. These companies have experts who know all the nuances of filing an error-free application with all the essential documents. So, the chances of rejection are reduced, and claiming shares becomes easy. 
Recovery of IEPF Unclaimed dividend/ IEPF unclaimed shares Investments
We have expertise in recovering financial assets such as iepf unclaimed shares, iepf unclaimed dividends, mutual funds, PPF, and so on that have been left unclaimed by the investor for an extended period.
The Indian market, being among the global highest capital sector, has had millions of investors participate in it, with a significant number of assets remaining unclaimed (iepf unclaimed shares), and we assist investors in recovering their/their family's old investments for zero advances in their demat/bank accounts. 
Recovery of Shares from IEPF
Any transaction, including iepf unclaimed shares, iepf unclaimed dividends, and mutual funds, that have not been claimed in a row for seven years is moved to the IEPF. We specialise in assisting clients in the recovery of shares from iepf; throughout the years, we have retrieved crores of rupees in IEPF shares.
Normally, the entire process of recovery of shares from iepf takes a lot of time and work, but with our knowledge, we can do it in the shortest amount of time while also covering all of your unclaimed investments.
Dematerialization OF Physical Shares
The process of transforming physical holdings into digital form is known as the dematerialization. Because the transfer of physical shares is forbidden by SEBI (Securities and Exchange Board of India), this makes the investments transferable. Investors confront a variety of concerns with physical investments, including signature mismatch, name change, and a variety of other issues, and we give comprehensive answers to these problems and assist in the dematerialization of physical shares.
MUDS is a specialist service provided by MUDS, the country's premier wealth recovery business led by a dual licenced Lawyer and Chartered Accountant, as well as an IIT-IIM whiz, to handle the difficult maze of recovery of shares from iepf and dividends from the IEPF Authority. MUDS is made up of a hardworking and devoted team of highly trained and experienced Lawyers, Chartered Accountants, and Company Secretaries. We are the most successful platform in supporting investors in recovering their rightful assets in the most expedient manner, thanks to our unrivalled team and superb infrastructure.
MUDS: Unrivalled & Unsurpassable Services!
When it comes to reputation in the success rate of IEPF claims, MUDS stands second to none. With a satisfied clientele across India, experts at MUDS will give you easy-to-follow solutions for any issues related to IEPF claims. We also have experienced legal advisors who can help in claiming ownership of shares from relatives who did not name heirs to their shares. These kinds of shares often end up in legal disputes and experts from MUDS can help in the resolution of such disputes in a legal way. So, if you want a hassle-free solution for IEPF claim recovery then contact the experts at MUDS today.
"There are lots of formalities to be followed to recover the unclaimed shares from IEPF, which is a little demanding for a layman, therefore, it is better to seek professional help."
-Shweta Gupta, Founder and CEO, MUDS