IL&FS Case : "Unveiling the Curtains"
The year 2018 was an alarming year from the viewpoint of business. The big business houses were not yet able to bounce back to business after witnessing several transitions in the form of transition of their businesses to a new taxation law i.e. Goods and Service Tax (GST); Demonetization campaign,when series of Scams came into limelight that grabbed the attention of one and all.
The 170 crore bank fraud by reputated diamond jeweller, Nirav Modi was into public domain after which a series of other bank fraud also grabbed attention of the public mass. The Financial market had hardly regained strength after witnessing a series of bank frauds when one more significant fraud by a leading company "Infrastructure Leasing & Financial Services (IL&FS)" grabbed the attention of the market.
Prior to directly jumping to the facts of the case, it is important to know about IL &FS.
About IL&FS
Infrastructure Leasing & Financial Services Limited is one of India's leading infrastructure development and finance companies. Its central mandate is catalyzing the development of innovative world-class infrastructure in the country.
For over 25 years, IL&FS focused on commercializing infrastructure projects and creating value-added financial services to become a proactive partner in India's growth story.
The IL&FS Group is widely acknowledged as the pioneer of Public-Private Partnership (PPP) in India.
IL&FS was incorporated in 1987, initially promoted by the Central Bank of India (CBI), Housing Development Finance Corporation Limited (HDFC), and Unit Trust of India (UTI). Over the years, IL&FS has broad-based its shareholding and inducted Institutional shareholders including State Bank of India, Life Insurance Corporation of India, ORIX Corporation Japan, and Abu Dhabi Investment Authority (ADIA).
IL&FS holds Strategic relations with governments in 22 states and various departments of the Central Government and Union Territories which have helped widen the Group's national footprint. Its international presence includes offices in Singapore, Spain, London, and Dubai, as well as strong network partners in the USA, Tokyo, Philippines, and Abu Dhabi.
IL&FS is also a "shadow bank." The term is used to refer to the non-bank financial intermediaries that provide services similar to traditional commercial banks. Since these are not deposit-taking companies, they are not as stringently regulated.
Key shareholders of IL&FS include: State-owned Life Insurance Corporation of India (LIC), which owns a 25.34% stake in IL&FS, is its largest shareholder, followed by Japan's Orix Corporation (23.54%). Other key shareholders are the Abu Dhabi Investment Authority (12.56%), Housing Development Finance Corporation (9.02%), Central Bank of India (7.67%), and State Bank of India (6.42%).
As of March 31, 2018, the Authorised Share Capital of IL&FS is Rs 15,000 mn, Issued Share Capital is Rs 9,859.27 mn, and Subscribed and Paid-up Share Capital of Rs 9,831.53 mn, comprising of 128,403,276 Equity Shares of Rs 10 each fully paid-up, 1,133,000 Non-Convertible Redeemable Cumulative Preference Shares (NCRCPS) of Rs 7,500 each fully paid up and 5,000,000 NCRCPS of Rs 10 each fully paid up.
Much before the case was revealed out in the public domain, the mutual funds market was comfortably holding bonds, commercial papers, debentures, and structured obligations issued by IL&FS amounting to Rs. 3,500 crore. There was no serious concern as IL&FS was just one out of many Non Banking Financial Cooperation (NBFC) on whose investment papers big fund houses were sitting on. Until September, there were no downgrades, defaults, or any other red flags which required the attention of fund managers to stop and evaluate the case. Things began to change for IL&FS when two IL&FS group entities were downgraded by Credit Rating Agencies in September as a result of which debt pars worth Rupees 1000 Crore were at stake. Since then questions have been repeatedly raised about the quality of assets fund houses should hold and what actions they need to take on them.
The cash crisis at IL&FS grabbed attention and was out in the media domain in this financial year but the trouble had started way back in 2016 when banks started avoiding loans to IL&FS.As a result of which IL&FS had to rely on short-term loans for serving its debts while building long-term assets simultaneously. The continuous series of loans gave rise to mismatch in figures of Assets and Liabilities of IL&FS.
Every business fraud is not done in a single day but it is the result of several days' effort that ultimately attains the desired shape one day. The symptoms of massive trouble that was prevailing at IL&FS were easily detected and were evidently crystal clear. The symptoms were an alarm for IL&FS but when these got unnoticed took the shape of what we witnessed recently.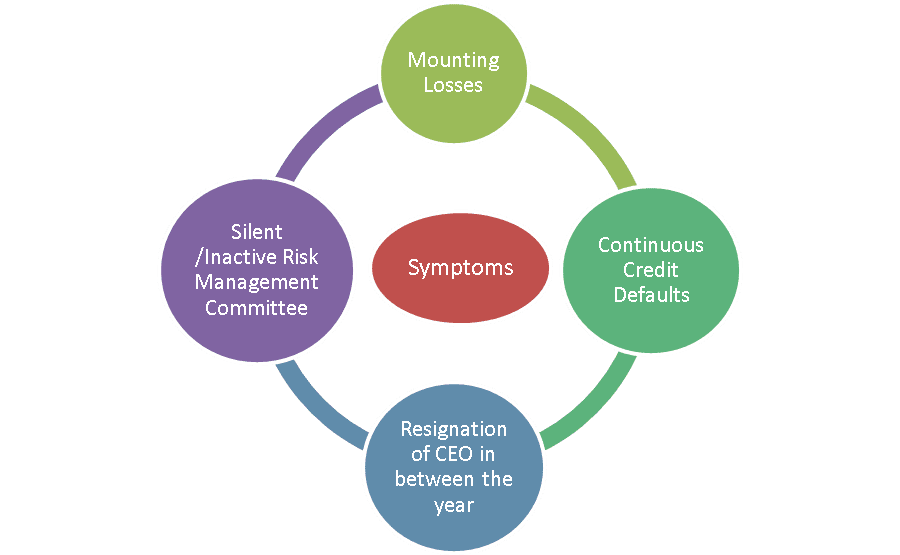 The above symptoms give us a clear insight into what lead to such a massive case. These symptoms were prevailing In IL&FS since long and it was just that they were unnoticed and grabbed attention once when these were out in public domain in early September. The above mentioned symptoms make the base of the IF&LS default crystal clear and transparent.
Having discussed IL &FS and the symptoms of the default, let's have a quick glance at the wall of default of IL&FS which will help us in uncovering the facts of the case.
The wall of default highlights the till date defaults committed by IL&FS which became a bedrock for the case. It is the defaults committed by IL&FS group that became the crucial element of this popular case. The majority default in IL&FS arised because of the cash crunch that was prevailing in the group. The IL&FS group had reached a position where it became unable to meet its debt obligations as a result of which the group was unable to obtain long term borrowings and was managing its operations from short term borrowings.
Wall of Default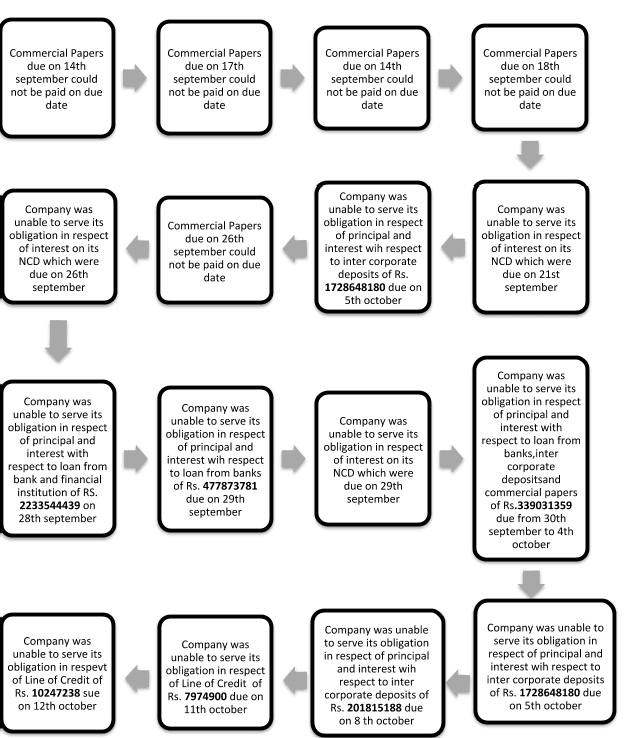 Top attention seeker facts of IL&FS case:
Now it's time to grab your attention towards the facts which are of significance in the unveiling of IL&FS case.
1. Riding on intangibles
The balance sheet of IL&FS had a very significant component of intangible assets. There were as much as 22,613 crore at the gross level, which is almost the same as the gross assets owned by the company. Almost all the intangible assets of IL&FS group are made up of "Rights under Service Concession Arrangement (SCA)."The accounting of intangibles affords lot of scope for financial engineering. The true image in the IL&FS will be clear when an audit of finances will be done.
2. Zero interest cover
IL&FS's consolidated borrowings almost doubled from 48,672 crore to 91,091 in just four years from 2013-14 to 2017-18. Short term borrowings in proportion to total debts started increasing during this period. During 2017-18 short term borrowings reached a height of 15% as against 10% in the year 2013-14. The profit before interest and Tax was 7,267 crore which was lower than the interest liability of 7,922 crore in 2017-18. The interest cost accounted for around 42% of total revenue of IL&FS.
3. Handsome salaries
Inspite of the sinking financial condition at IL&FS group, the board of directors paid themselves heavy salaries and commissions. In the year 2017-18 IL&FS posted a net loss and then it dared to announce a dividend of 60% to shareholders spending around 93 crore.
4. Complex Structure of IL&FS
The consolidated financial statements of IL&FS revealed the data in respect of 27 direct subsidiaries and 159 indirect subsidiaries. In addition to these, there were associate companies in which IL&FS held 50 % or more shareholding and Joint ventures also. On investigation by new board of directors they found that there were around 348 entities in the group. The question that arose here was "Inspite of such sinking position why was IL&FS entity intensive.
5. Actual Identity of IL&FS
The question as to the identity of IL&FS became significant that whether It was an NBFC or an infrastructure company. By having a glance at the balance sheet of IL&S it became evident that it is an infrastructure company as 68% of its total revenue was from infrastructure sector. Financial services accounted for only 32% of revenue. Inspite of all this RBI considered IL&S a non deposit taking NBFC.
6. Dormant Board of Directors
The board of directors is responsible for drafting and overseeing policy along with ensuring that the business is carried on in the interest of the company. What happened with IL&FS was shocking because IL&Fs had a board of directors consisting of eminent persons who are well known for being best and bright in business but then they failed to perform their basic duties. The board of directors of IL&FS had nominee directors from SBI, LIC, and CBI, even then to these institutional directors also became negligent in keeping an eye on the operations of IL&FS.
7. Sleeping Risk Management Committee
The Risk Management Committee at IL&FS was in a sleeping position since 2013-14. The evidence of above is that the yearly reports of IL&FS clearly mention that no meeting was held by the Risk Management Committee in all these years. The annual report for year 2017-18 mentions a detailed list of responsibilities which are to be undertaken by the Risk Management Committee. But it was surprising to witness that inspite of high risk and cash crisis, the Risk management committee at IL&FS did not wake even to call a meeting of the committee. Except Risk management Committee all the other committees at IL&FS held atleast one meeting in the year 2017-18.
Having discussed about what went wrong in IL&FS it is of urgent importance to understand what is the course of action available with IL&FS.
Why rescue of IL&FS is crucial?
On a standalone basis, IL&FS constituted a small portion of overall debt assets of mutual funds but the default by IL&FS would create serious effect for all NBFCs as the cost of funds would go up as the mutual funds would become cautious in buying such securities. As per the current market scenario, the NBFC market has already witnessed the cost of funds escalating by 20 to 30 basic pints in just one month. After revealing of IL&FS default a direct impact of the same is visible in the stock market as many listed NBFCs had have seen their value eroding by more than 50%.
If no fruitful action is taken, then IL&FS group which is currently facing liquidity crisis will ultimately collapse. If the IL&FS collapses it would have a strong impact on the entire NBFC industry. The major effect would be seen on housing financers, capital market fund raisers, margin financers and retail loan providers upto a large extent.
It is of importance to note that the Ministry of Corporate Affairs (MCA) is also in panic state after the IL&FS default. The MCA in its report to Government stated that the default by IL&FS would have serious aftereffects including widespread redemption pressures, selling off operations in debt market, liquidity crunch, and a mass closure of around 1500 small NBFCs on account of lack of adequate capital.
It is evident that ministry will try to devise a way out in this case to prevent IL&FS from collapsing. At this moment the default by IL&FS is less important as against the rescue of IL&FS.
Recourse actions available for IL&FS
The present situation of IL&FS is similar to "Lehman Brothers crisis" that happened way back in 2008.In the present time what has happened in IL&FS cannot be undone but the need of the hour is to find recourse for IL&FS.
The biggest challenge for IL&FS as of now is to raise funds quickly to avoid any further debt defaults. IL&FS has two options for arranging funds: firstly, it can sell its assets and a second and permanent solution would be to obtain funds by raising equity capital. IL&FS keeping into account its present state can raise capital by way of right issue. The proposal for right issue was in pipeline by the previous board but they failed in convincing the shareholders. Another recourse available with IL&FS is that it can sell stakes to new set of promoters. This option was again considered by the prior board but lacked action due to non availability of shareholders consent on valuation.
IL&FS is in the process to monetize all its resources to repay its debt and further clean up its balance sheet. It is also in a plan sell up its corporate headquater as it is expected to fetch approx. 1300 to 1500 crore. IL&FS has devised a plan whereby it will sell some of its top road and power projects and it has shortlisted approx. 25 projects for sale through which debt liability can be reduced by 30,000. Furthermore, IL&FS is planning to raise about 3,000 crore in the form of working capital from its two major institutional shareholders i.e. 2000 crore from LIC and remaining 1000 crore from SBI. In addition to this, other institutional shareholders have agreed to subscribe right issue worth Rs. 4,500 crore that will help in providing liquidity support along with avoiding any further debt defaults.
Latest updates in IL&FS case
The debt default of IL&FS came into knowledge of one and all and as time passed things began to get better for IL&FS. Inspite of being a defaulter it was receiving support for its rebounce from all available sources and ministries.
The State Bank of India, country's largest lender also stepped in to support IL&FS in its liquidity drive by deciding to triple its loan purchase from NBFC to Rs. 45,000 crore for the current financial year.
The mess at IL&FS required support of strong authority for getting things back in place. It was the time for government to step in to lend its utmost support. Finally looking into the need of the hour, the government stepped in to address the governance issues prevailing in IL&FS.
The government at its very first instance approached the National Company Law Tribunal (NCLT) for dismantling the board of directors at IL&FS by infusing new members to the board. This was the second time when government took control of board of directors of any company after Satyam case that happened way back in 2009. Finally on 1st October after obtaining prior approval of NCLT, the central Government appointed the new board of directors who were to supersede the previous board of directors which were accused of 'mismanagement'. The newly elected board of directors consisted of the following eminent persons: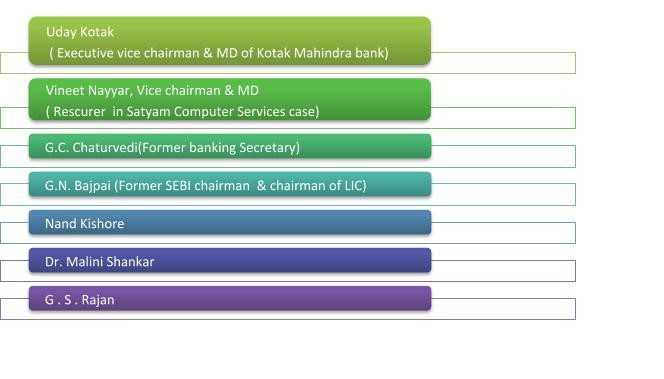 The newly elected board of directors met for the first time on 4th October to take charge of IL&FS and to accept the responsibility as "national duty".
The next strong step taken by the government to support IL&FS was that it once again approached NCLT on 15th October to seek a three months moratorium from legal proceedings in any court against IL&FS and its subsidiaries. The government while seeking moratorium for IL&FS before Mumbai bench of NCLT argued that "It is working on the revival of IL&FS, which is having approx. 70-80 in multiple jurisdictions across the nation and for which moratorium is necessary ."The government motive behind obtaining moratorium was to carry out the revival process smoothly and also to provide protection to few subsidiaries against whom proceedings are on under the Insolvency and Bankruptcy Code.
The NCLT took a strict step and quashed the request of the government regarding seeking of moratorium for IL&FS group. After this the government approached NCLAT for the same cause. The NCLAT taking into account the nature of case, larger public interest and economy of the nation, and the interest of IL&FS and its group companies, granted a ray of relief by granting stay on all legal proceedings against IL&FS group along with its 348 subsidiaries till its further order.
After obtaining relief from NCLAT the new board of IL&FS elected Arpwood capital and JM Financial Ltd. as Financial and Transaction Advisor (FTAs) along with Alvarez &Marsal (A&M) as restructuring advisor. These advisors shall formulate and execute a resolution plan for debt burdened IL&FS.
Abhishek Jain at MUDS is of the view that "Rescue of IL&FS is crucial for Prime Minister Narendra Modi, who cannot afford financial crisis months just before he faces voters at the next elections due by May 2019.His administration is already facing public anger over soaring fuel prices, falling Rupee currency and farmer protest due to low crop prices. The Revival of IL&FS will approximately take 6 to 9 months if things work out as they are being planned. The default by IL&FS is not a minute one but on obtaining aid are under control."
Hope that the article helped in unveiling the curtains of IL&FS case and facilitated in forming insight of what actually happened in this case.